This year's speakers for the 17th Annual Agricultural Client Seminar speakers are excited to share their knowledge of current events and trends in the industry.  Learn more about them below.  Excerpts from their presentations will be posted online after the event, so stay tuned!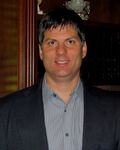 Hugues J. Rinfret, CFA, FRM
Director of Research, MetLife Agricultural Investments
Mr. Rinfret joined the MetLife Agricultural Investments team in July 2005.  He is responsible for market research and portfolio risk analysis relevant to Agricultural Investments at MetLife, ranging from production agriculture to agribusiness and timberland investments.  He has over 18 years of experience in agricultural market research in both the consulting and financial industries.  Mr. Rinfret has authored articles in industry publications like Poultry USA and Feedstuffs and has produced quarterly newsletters addressing current market and policy issues.  After graduating from McGill University in Montreal with a Bachelor of Science degree in Agriculture and a Master of Science degree in Agricultural Economics, Hugues spent four years at Global Insight with the Canadian Agricultural Service in Philadelphia.  From there, he joined the Agribusiness team at SunTrust Bank in Atlanta developing analytical capabilities to enhance portfolio risk management and market research.  He also earned the Chartered Financial Analyst (CFA) and Financial Risk Manager (FRM) designation and grew up on a dairy and cash crop farm near Montreal, Canada. 

Jason Tucker
Strategic Officer, John Deere & Company
Jason Tucker is Strategic Lead for the Agriculture & Turf Division of Deere & Company, a position he has held since August 2010.  Tucker is responsible for the development of market opportunities leading to a portfolio of solutions for customers within the geography of US, Canada, Australia, and New Zealand. Tucker joined Deere & Company in 1997 as a product marketing manager and has held a variety of management positions in sales, marketing, and corporate business development.  A native of a small town tobacco farming operation in North Carolina, Tucker is a 1997 Ag Business graduate of North Carolina State University.  He received an MBA in 2002.  He is a past board member of the North Carolina Chapter of Alpha Zeta Agricultural Fraternity and active member of the National Eagle Scout Alumni Association and Boy Scouts of America.

Dr. Patrick Moore, Ph.D.
Founder of Greenspirit
Dr. Patrick Moore has been a leader in the international environmental field for over 30 years. He is a founding member of Greenpeace and served for nine years as President of Greenpeace Canada and seven years as a Director of Greenpeace International. As the leader of many campaigns, Dr. Moore was a driving force shaping policy and direction while Greenpeace became the world's largest environmental activist organization.  In recent years, Dr. Moore has been focused on the promotion of sustainability and consensus building among competing concerns. He was a member of the British Columbia government-appointed Round Table on the Environment and Economy from 1990-1994. In 1990, Dr. Moore founded and chaired the BC Carbon Project, a group that worked to develop a common understanding of climate change.  As Chair of the Sustainable Forestry Committee of the Forest Alliance of BC, he leads the process of developing the "Principles of Sustainable Forestry" which have been adopted by a majority of the industry.  In 1991 Dr. Moore founded Greenspirit, a consultancy focusing on environmental policy and communications in natural resources, biodiversity, energy, and climate change.
Most ag producers would find it unusual that a founding member of Greenpeace, one of the world's largest environmental activist groups would now be preaching the myths and misinformation leading the green movement.  Well that's just what took place during the Indiana Livestock Forum on Dec. 18 in 2008, as Dr. Patrick Moore, founding member of Greenpeace and Greenspirit founder took the stage at Lucas Oil Stadium in Indianapolis as a keynote speaker.

'In the 1960s I was a reborn ecologist and rallied against hydrogen bombing, which was a major turning point in my life and became the birthplace of Greenpeace,' Moore explained.
Several of First Farmers Bank & Trust's lenders were present at Lucas Oil in 2008 and heard Dr Patrick Moore speak.  Over the years First Farmers has provided dynamic and currently relevant speakers for our agricultural and agri-business clients.  I encourage you to join us on Wednesday February 22nd. 
This is an opportunity that you do not want to miss! 
 -Norman Lavengood, Sr. Vice President, First Farmers Bank & Trust

Jerry Carroll
Farmer Comedian & Agricultural Speaker
Jerry found humor growing up on his family's farm. From the time he could walk, Jerry joined his father and uncle to farm 130 acres of flue cured tobacco, 500 acres of corn, 500 acres of small grain, 500 acres of soybeans, 40 head of cattle, and 5,000 hogs per year.  Spending 14 hours a day in a tractor cab gave Jerry plenty of time to think about his life's dream of entertaining people and making them laugh. Since beginning in 1993, Jerry has performed for crowds in venues ranging from local cattlemen's association banquets to the Ministers of Provincial Parliament in Toronto, Canada.  Besides corporate events and conventions, Jerry has opened concerts for musical artists such as Michael Bolton, Patty Loveless, Lyle Lovett, and Larry Gatlin. Everywhere he goes, he leaves audiences roaring with laughter.  When he's not on the road making people laugh, Jerry still works the fields of his family's farm.